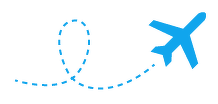 ---
---
I will be adding more flight info as I go along so bear with me if I don't have your relevant country flights info yet  ...I'm working on it ;)  
For now, I'll be providing flight info and sales details arriving from New Zealand and Australia only. These are the most common flights to take to arrive in Rarotonga as most flights from other parts of the world will complete their last leg of flight through New Zealand or Australia.
Regular flights arrive from New Zealand and Australia and less frequent flights arrive from USA, Tahiti, Asia and other parts of the world.
Air New Zealand, Virgin Airlines and Jetstar operate regular flights to Rarotonga and all 3 offer sales every now and then. These sales are from as low as $249 pp, one way, direct from Sydney, Aus. This is the cheapest price you'll find anywhere so sign up below to be notified when these seats become available. 
For a comparison price on sale flights, it's good to know the average price for flights from Aus - Rar are $500 pp, each way when not on sale (give or take $100 either side). 
The airlines want to fill their last remaining seats by offering low prices to you with no options. To take advantage of the lowest priced flight when available, you must be willing to have flexibility of travel as they will be flying dates for the next few months, without much notice at all. Also there will be limited days and times to choose from, so to make it super cheap, be ready to grab basically half price tickets!
Sometimes it might work out cheaper for you to get sales for each leg of your trip rather than fly direct.  Australia to New Zealand sale price + New Zealand to Rarotonga sale price. You might not be able to get a half price cost by doing this but you'll still save and have more flying dates and times to choose from when booking.  I have booked this way and paid $300 from Aus - NZ and return and $380 from NZ - RAR and return for a total of $680 which was still a great price. I was able to choose from more dates and times for not only arrival in Rarotonga but also making the connecting flight from NZ work. 
The way to book flights is up to you. Just make sure you get lower than normal prices when you can (Don't pay full price).  Go for cheaper prices on each leg of flight or be ready for a last minute seat and complete budget prices. Be notified of sales when they become available by signing up before you leave the page so you don't miss a sale. 
---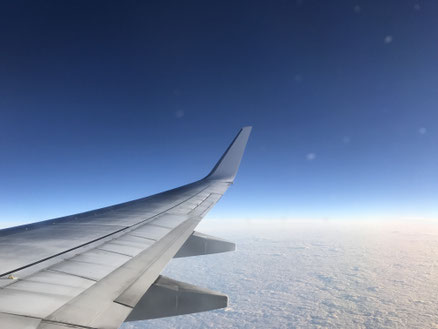 The times listed below are approximate and can change at any time. Click on the airline links for more info.
Times in charts are only to be used as a guide and to see which airlines line up with your preferred travel days and times. They are here to help you further plan your holiday itinerary. I will be updating the times a few times each year to keep it relevant.
---
VIRGIN AIRLINES
FLIGHT TIPS & TIMES
Link to Virgin Australia website
*Virgin fly to Rarotonga via Auckland, New Zealand 4 days each week departing from Melbourne, Sydney and Brisbane. 
*Virgin do not fly direct from Australia to Rarotonga.  
*All Virgin flights arrive in Rarotonga at 10:15pm
*Take advantage of the 'free stop over' city that is Auckland, New Zealand and stay to explore the North Island by changing your connecting NZ flight to a few days or a week later.  Enjoy 2 holidays within one airfare because you can. 
5 BONUS SMILES WHEN YOU FLY WITH VIRGIN 
#1
Don't be restricted with luggage weight limits. Receive free check in baggage on all flights to Rarotonga.  That's 23kg per person! No need to add baggage costs or avoid it to save money. 
#2
Enjoy the free WIFI available on board all flights to New Zealand and Rarotonga. Take advantage of your time in the air to catch up on all last minute things digital and social before you switch off.
#3
Food is included with every airfare. This is also included in short flights. Fill your belly and break up the flight time by having an in-flight nibble.   
#4
Tea, coffee and water are complimentary on all flights. You won't be dehydrated or out of pocket in the sky. Also enjoy beer, wine, juice and soft drink on board all international flights.
#5
You'll earn Virgin Velocity frequent flyer points when booking your airfares towards a future flight. Earn points not only from the purchase of the airfare but all year when you have a Velocity linked credit card to earn points: 1 point per $1 spent. Run all household expenses through your credit card only to take advantage of the points available and the points will accumulate quickly.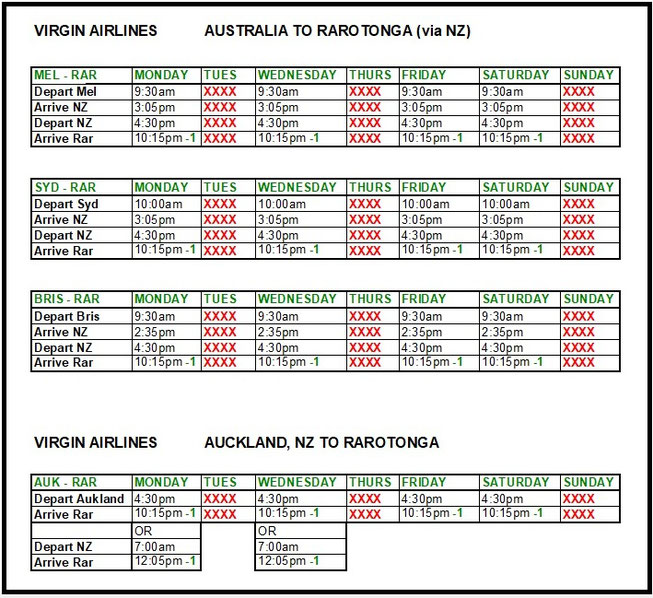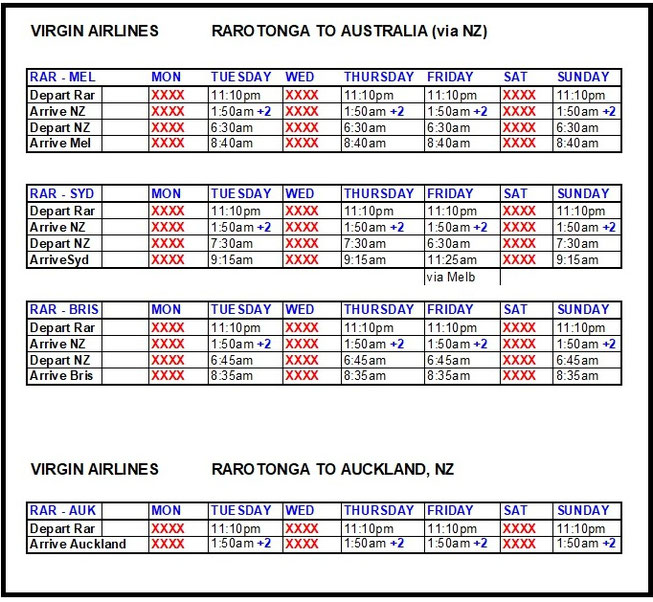 ---
AIR NEW ZEALAND
FLIGHT TIPS & TIMES
Link to Air New Zealand website
*Air New Zealand fly from Australia to Rarotonga via Auckland, New Zealand daily. 
*Air New Zealand Have one direct flight a week from Australia to Rarotonga. This flight is only available departing from Sydney on a Friday and leaving Rarotonga on a Thursday (arriving in Australia Friday).  It takes 6 hours to fly direct from Sydney to Rarotonga.
*Most flights arriving in Rarotonga land between 7:15am - 10:15pm. Not too early and not too late.
*90% of the flights from Australia to Rarotonga have a long wait time at New Zealand Airport. Approximately an 8 hour stop over between flights is normal. Less wait time is a bonus.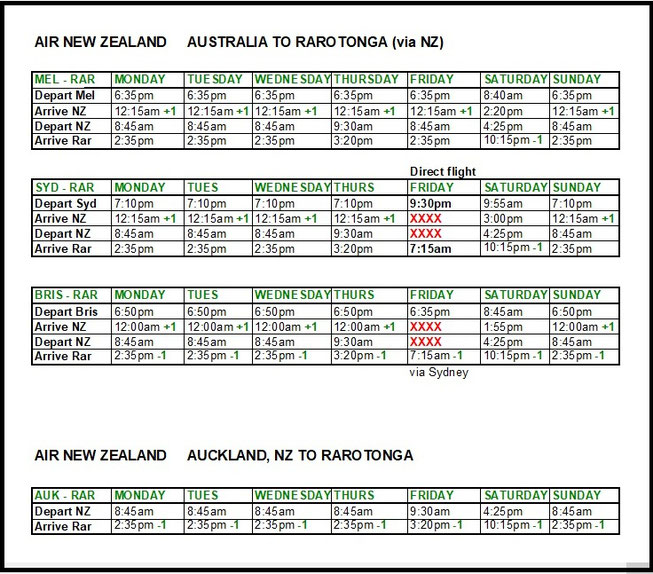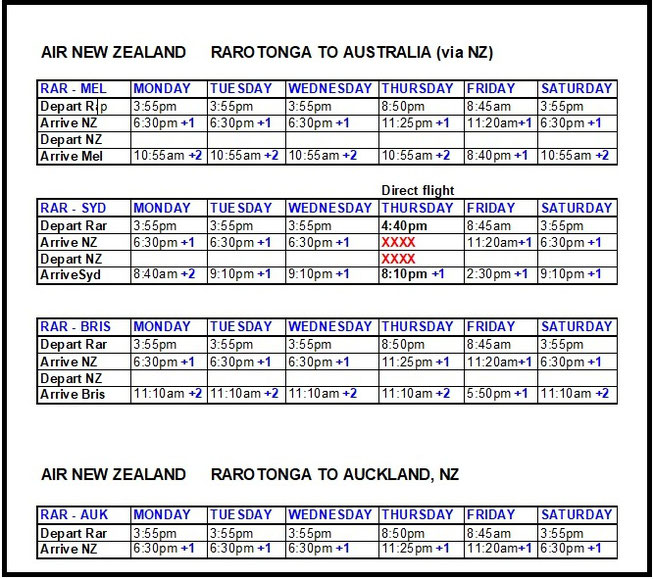 ---
JETSTAR AIRLINES
FLIGHT TIPS & TIMES
Link to Jetstar Airlines website
*Jetstar fly from Australia to Rarotonga via Auckland, New Zealand.
*Jetstar do not fly directly to Rarotonga from Australia.
*Flights from Australia depart Melbourne 2 days each week and depart Sydney 4 days each week.
*Look out for Jetstar sales offering 'pay one way, get return free'.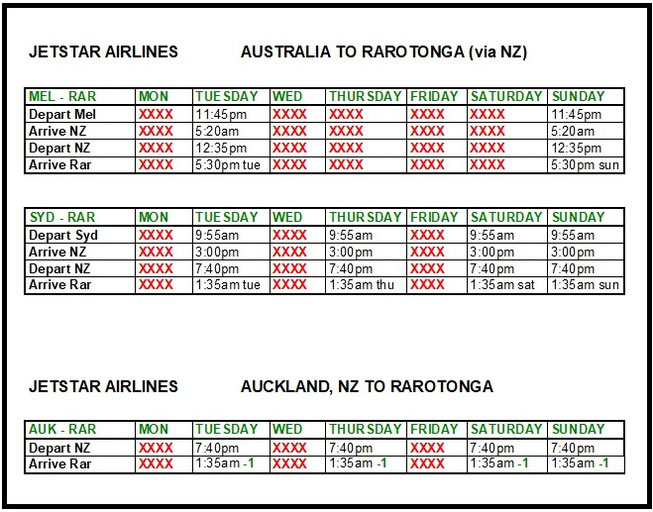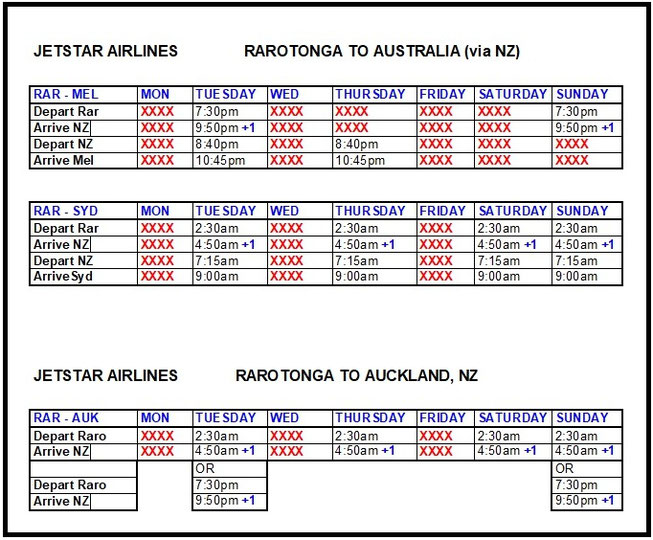 ---
---