VISIT RITO COOK ISLANDS FOR TAMANU OIL
I love oils,  especially coconut oil. Although I've become curious about different oil also available in Rarotonga and that is Tamanu oil.
I first heard about Tamanu oil on my third visit to Rarotonga.  Where had I been and how did I miss it? Did everyone know about this magic green nectar but me? I had to find out more.
Tamanu oil may be new to a lot of us in some parts of the world but locals here and around Polynesia are well aware of its properties using the oil for it's many benefits. Being a relatively new product it has broadened the use of the Tamanu tree for remedies other than the traditional use of the leaves and flowers to heal wounds and sores. It is valuable oil that has so many benefits but takes many seeds to produce enough oil to bottle. Thank goodness someone does just that!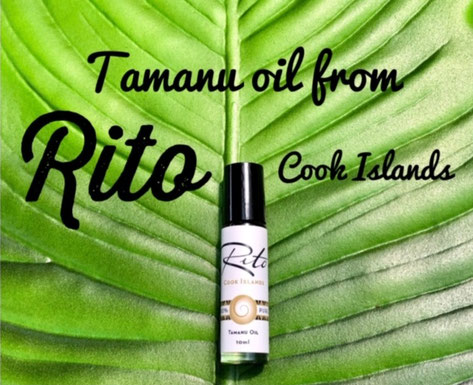 On a more recent visit I went to see Susan Wyllie who with her husband Robert set up Rito Cook Islands in Tikioki, Rarotonga. I wanted to get my hands on some Tamanu oil and learn about how they make their oils here at Rito. From drying coconut and Tamanu seeds to pressing, bottling and selling. Susan is very knowledgeable and happy to explain the process to visitors. 
Robert and Susan at Rito Cook Islands have  been producing coconut oil and Tamanu oil on their property in Tikioki, operating for 9 years with an apt name 'Rito' meaning the young shoots of the coconut palm which is the essence of their business.
Having combined some amazing island resources with advanced bio-molecular technology they've created a range of premium skincare and it's THE best skincare available in the Cook Islands. 
Their wonderful products are available in their shop for you to buy and take home. Very soon you can order online at www.ritocookislands.com to renew your supply because you'll absolutely love their products, especially Tamanu oil after I explain what it is...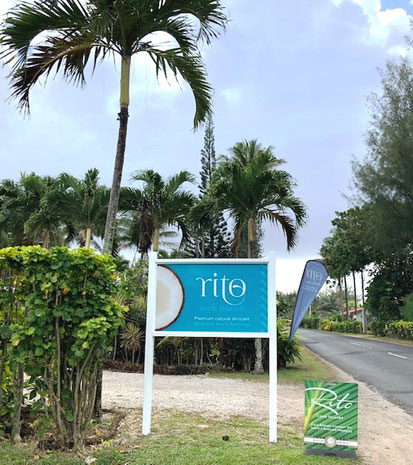 WHAT IS TAMANU?
Long ago the Tamanu tree spread throughout the Pacific from floating fruits to reproduce and they took hold, growing well in the suitable conditions of the tropics. In the past the leaves were used by people to provide relief from sores and wounds. Today, benefits of the oil have been discovered making it a very useful tree.
The tree has thick foliage and produces twice each year. Production starts with small white flowers turning into clusters of nuts which taste similar to apple when young having smooth green flesh the size of an apricot. As it ripens it turns yellow and becomes wrinkled, falling from the tree. The Tamanu seed which produces the oil inside the fruit is then ready to be harvested.
The kernels are laid out in the sun for 2 months where they turn a deep red/brown colour and become sticky and rich with thick oil. This oil is then cold pressed to yield the nutrient rich oil for us to benefit from.
This oil is applied topically and has many properties;
Antioxidant
Anti-inflammatory
Antibiotic
Antineuralgic
Antimicrobial
Antibacterial
Antiaging
This oil not only protects but also aids in the healing of many conditions with a wide range of uses;
For the treatment of infected wounds.
Eases sunburn, bites, sores, rashes and eczema.
Moisturises dry and chapped skin to soften and heal.
Heals burns and chapped lips.
Used to help prevent nappy rash.
Good for joint pain, arthritis and even lessens bruising.
Reduce scarring and the appearance of burns and other wounds.
Lessen the severity of skin conditions to calm and treat.
Helps with skin regeneration. 
Prevent and combat wrinkles caused by sun damage.
Protect skin from wind, sun and humidity.
Pain reducing for gout, shingles and neuralgia.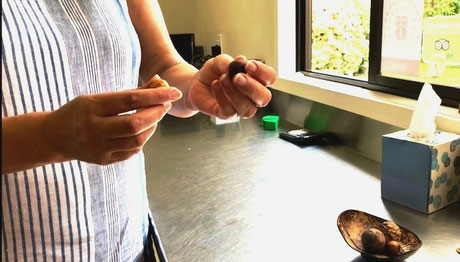 It really is an excellent all round healing agent that basically speeds up the calming, treatment and healing of skin conditions. I have tried this oil on a sunburnt chest and was impressed as it did speed up the healing process while minimising skin peel. 
Tamanu oil is a sustainable product because of no impact on the trees they're grown. One seed or kernel is found in each Tamanu fruit which actually falls from the tree naturally when ready to use. Rito Cook Islands source their Tamanu seeds in Rarotonga and along with other Pacific Islands, Rarotonga also support the making of their skincare products. Using ingredients mainly from here supports the local economy to continue to make this great product available.
I now know after buying 100% Tamanu oil from Rito Cook Islands that anything other than this natural cold pressed, light green oil won't be the real deal. It should smell natural, nutty and earthy, just like a plant. Because of this you know exactly what's in it. It's real, raw and ready to use therefore should naturally be a green colour.
100kg of fruit is needed to produce just 5kg of cold pressed oil which explains why it's higher price at $15 for 10ml in a small handy roll on bottle. This stuff is precious! It really is an excellent all-round healing agent that basically speeds up the calming, treatment and healing of skin conditions.
As well as their Tamanu oil Rito Cook Islands have a large range available including soap, shampoo, conditioner, an advanced range of skincare products, after sun gel and body lotion. They also have a range of coconut oils, including their infused culinary oil. Rito Cook Islands products are not only for sale at their property but also at other locations around Rarotonga. I purchased 10ml of pure Tamanu oil for $15nz and 250ml of Cold pressed coconut oil for $16nz although on my next visit I will be buying a lot more Tamanu oil. Maybe even some to giveaway to readers.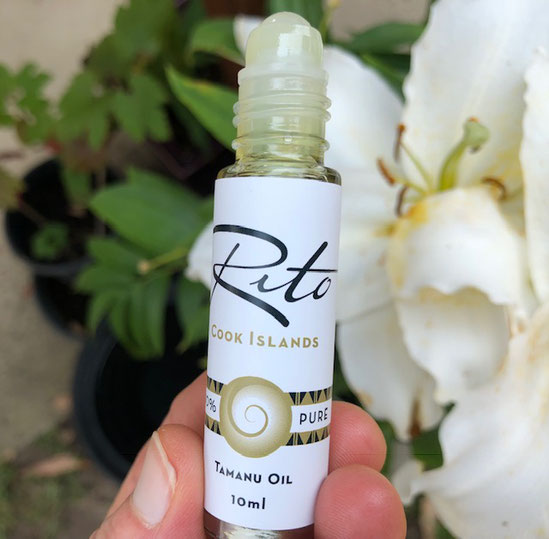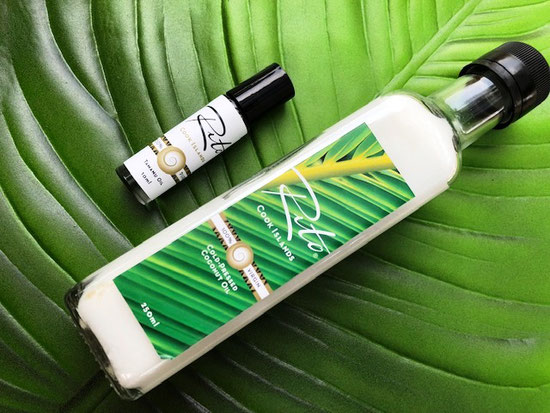 I'll continue to buy these 2 favourite oils of mine from Rito each visit. Their many products are made from these oils and are available here on site in Rarotonga. They're a perfect and affordable souvenir to take home.
Keep an eye out for their website coming soon to purchase their fantastic products (the website is still under construction).
To contact Susan and Robert from Rito for more information about their products,
find them at
Rito Cook Islands. Main road, Tikioki 
(150m from Fruits of Rarotonga)
Rito at hut 46 at Punanga Nui Market on Saturdays.
www.ritocookislands.com (website coming soon)
info@ritocookislands.com
sales@ritocookislands.com