While visiting Rarotonga you don't want to be confined to your accommodation the entire time you're here. You'll want to get around and see the Island. To keep costs down, mix up different transportation to stretch your holiday money further.
Take in the views from every angle while you're moving around one of these 11 ways…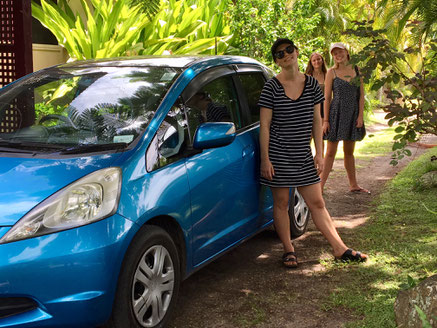 1. DRIVE  AROUND
Rent a car or scooter for your entire stay or just for a few days. This mode of transport is personal and the easiest to get to where you want to go in a short time. Both will give you a feel for Island life and the freedom to go where you want, when you want. Hire small, medium, convertibles and family sized cars. Spend a whole day driving around exploring the roads beyond Ara Tapu (main road). See locals going about life at Island pace, tending to garden produce and domestics.
2. WALK  AROUND
A slow paced venture around the Island by foot will let you see more, hear more and take in more of your surroundings. It could take hours to all day to lap Rarotonga via the coast road of 32km. If this is too much for you, choose a section to walk and catch the bus from anywhere back to your accommodation when you've had enough.
Exploring the interior by hiking Rae Maru or Te Rua Manga is definitely worth it for the wonderful view and both are a free activity
Go for an early morning run in Rarotonga. The island looks beautiful and misty at sunrise, especially over the mountain peaks. Soak up the best view from anywhere on the Island. You won't even notice you're exercising. This mode of transport only requires a basic level of fitness and it's free!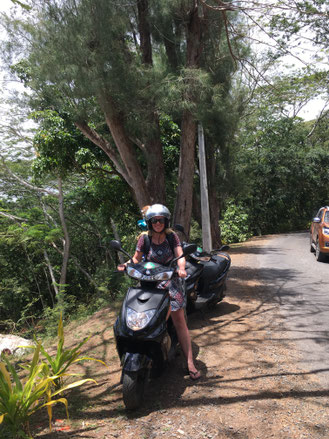 3. CYCLE  AROUND
Rent a bike and ride to where you want to go. It's a great way (again, slower paced) to see more and using a little less energy than walking. With no hills on the main road, cycling makes for an easy and cheap way to get around. Bikes are easier to park and easier to see any free range animals that might wander on to the road while riding around, so less accidents involving animals. Best of all,
bikes cost nothing to run – well, maybe some lunch on one of your many stops on your ride. Stop at any great beach you find for a swim or snorkel or stop to chat to some friendly locals on your ride.
4. SWIM  AROUND
If you're of a high fitness level and feel like setting yourself a challenge while in another country, swim a lap of the Island! This would be a novel but great personal achievement if that's your thing. Rarotonga is encircled by a lagoon and outer reef so you can swim right around it in calm waters. Some parts may be a little difficult but it's not called a challenge for nothing.
Before you set off, make sure high tide will be in for shallow and smaller areas of the lagoon. Ask locals if you should be aware of any dangerous or difficult spots to navigate before your big challenge begins. Why not raise some money for a charity before the swim?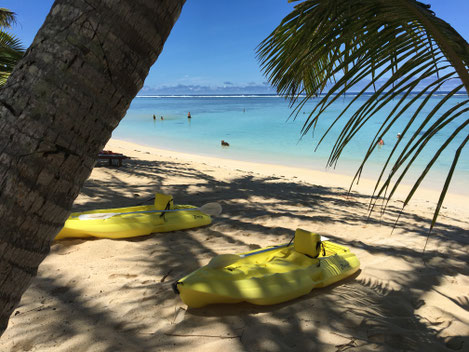 5. KAYAK  AROUND
If you're lucky enough to have access to a kayak or two at your accommodation, that's great. Otherwise, hire one from one of the many places around Raro and paddle around where you're staying or even lap the Island. If you decide to paddle around the Island, take a picnic with you and stop at a nice beach to enjoy lunch. Kayaks are a great way to explore the lagoon from above the surface and to get closer to the reef for a look.
6. BUS  AROUND
The first bus you may encounter is an airport transfer bus. If you have booked this you will be greeted and driven to your accommodation in a small bus. Prices range from $20-$30 pp.
2 buses operate daily with one running until 11pm. Each bus heads in opposite directions circling the Island so you're never left waiting long for one of them to come by. Buses have slightly higher seating giving you a better view point. Be sure to give the bus drivers, school kids and other locals a 'Kia Orana'.  Look at Bus About Raro for bus schedules and fares.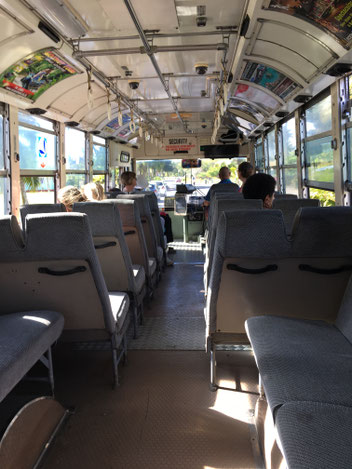 7. TAXI  AROUND
I wouldn't recommend using a taxi to get you around each day as this daily option is expensive but they're a great alternative to an airport transfer if there's 2 or more passengers to share the cost. Just like at home, they're a great alternative to drink driving too. Taxi's are driven by locals and always up for a friendly chat and history knowledge (if you ask) while taking you to your destination.
8. QUAD BIKE  AROUND
Fill a few hours exploring the interior of the Island while driving yourself around on a quad bike. If you're lucky and go after it has been raining, you'll get to spin the wheels in the mud while travelling up hills and through creek crossings. This is a fun (sometimes muddy) way to see inner Raro and experience another side to Rarotongan life and enjoy the sights, houses, plantations and animals along the way.  www.raroquadtours.com for tour info.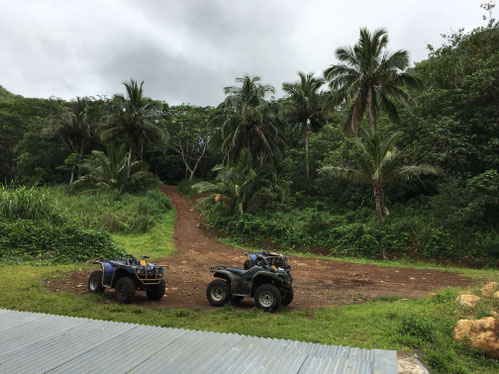 9. BUGGY AROUND
Another way to spend a few hours cruising around the inner roads of Rarotonga is by driving a buggy. Take part with Raro Buggy Tours and drive an open 4 wheel, 2 seater off road vehicle. Drive around Raro after leaving the tourist coastal area to get closer to nature. See plantations, local properties and families going about their lives.
10. ELECTRIC TUK TUK AROUND
The most recent mode of transport for tourists to get around Rarotonga is the electric tuk tuk with Tik-e Tours. A novel and fun way to travel around the Island. As they're not completely enclosed, you'll enjoy the wind in your hair and you'll be able to take in the sights as your driver takes care of getting you around. Go to Tik-e Tours website for info.
11. CIRCLE ISLAND FLIGHT AROUND
Air Rarotonga is not only able to fly to some outer Cook Islands, but for $129 per person you can take the Circle Island Flight and see the entire Island from the air in a high wing Cessna. The flight takes you above Rarotonga for 30 minutes with on board commentary from the pilots.  Air Raros Flightseeing Tour provides THE best views of the mountains, lagoon and surrounds.
Check Air Raro for more info.