I refuse to pay full price for flights anywhere and never more than $700 for my flights to Rarotonga. This year I've been lucky to get them through Virgin Airlines at $689 return from Melbourne.
All 3 airlines flying to Rarotonga from New Zealand and Australia are great. They all have flight sales a few times each year, some at the same time each year so you can be prepared the following year after saving up the cash first.
Each airline has their own quirks and reasons we choose them to fly with them but I have learned a few things about Virgin Airlines after buying full return airfares for my visit this year. I love flying with all 3 but will be taking advantage of Virgin airlines bonuses when I fly with them in a few months.
Here's what you'll get to enjoy with every Virgin flight to Rarotonga from Australia and New Zealand. These 5 reasons will make you smile a little more when getting a great sale fare :)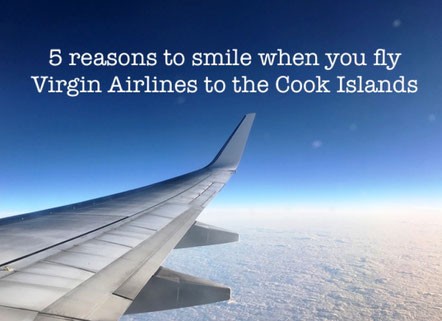 5 BONUS SMILES :) 
:) #1
Don't be restricted with luggage weight limits. Receive free check in baggage on all flights to Rarotonga.  That's 23kg per person! No need to add baggage costs or avoid it to save money. 
:) #2
Enjoy the free WIFI available on board all flights to New Zealand and Rarotonga. Take advantage of your time in the air to enjoy free web browsing and entertainment via the Virgin WiFi network before you switch off.
(Download the Virgin in-flight entertainment App before you fly)
:) #3
Food is included with every airfare. This is also included on short flights. Fill your belly and break up the flight time by having an in-flight nibble.   
:) #4
Tea, coffee and water are complimentary on all flights. You won't be dehydrated or out of pocket while in the sky. Also enjoy beer, wine, juice and soft drink on board all international flights.
:) #5
You'll earn Virgin Velocity frequent flyer points when booking your airfares to use towards a future flight. Earn points not only from the purchase of the airfare but all year when you have a Velocity linked credit card to earn points: 1 point per $1 spent. Run all household expenses through your credit card only to take advantage of the points available and the points will accumulate quickly.