This is the second part of an article covering budget travel hacks for Rarotonga. The first part can be found here  where I've gone into depth with hacks for the 3 most important areas of a holiday, flights, accommodation and food. It's where the biggest savings can be made and the planning process can be made easier.
This second part of Budget travel hacks for Rarotonga covers other areas where you can also make your holiday more affordable with some shortcuts and ideas to make it easier for you.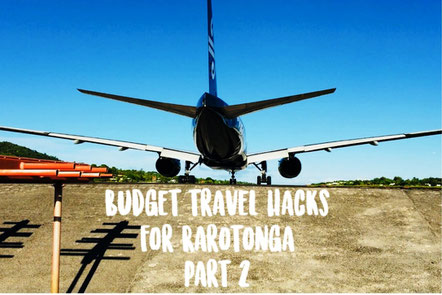 OTHER  WAYS  TO  SAVE   ON  SMALLER  AMOUNTS
AND  TIPS  FOR  EASY  PLANNING:
AIRPORT  RUN  OR  AIRPORT  PARKING  AT  HOME
Instead of paying for long term parking at your airport, pay a friend or family member for fuel and their time. This will cut a little from this cost. If out of the question and you're forced to pay for airport parking, search discount sites like Groupon to find discounted parking prices
AIRPORT  TRANSFERS
The cheapest way to find your way to and from your accommodation is by simply getting on the local bus that circles the island. If you're lucky enough to have flights during the day this is the cheapest option.
Taxi's are available and if there's more than one of you travelling together this might be a good option for night flights. It works out to be cheaper than a transfer bus but you will need to book a taxi before you leave on your holiday to make sure you'll have transport to your accommodation when you arrive.
Some accommodation properties may offer airport pick up and drop off. Email the property direct and find out if they do before booking any other method of transfer.
If you want to experience receiving a neck ei on arrival and a shell ei on departure, book a shuttle transfer bus. You'll be greeted on arrival with a beautiful scented genuine flower neck ei as a welcome gift. On departure you'll be picked up from your accommodation, taken to the airport and given a necklace/ei made from small shells to take home with you as a keep sake of your time in Rarotonga. The price for shuttle transfers are $20-$30 per person.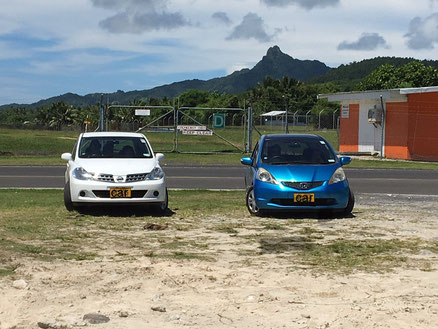 LOCAL BUS
If you want to save money on transport while here, rely on the local buses instead. You can buy 10 trips for $30 and families will only pay $26 for an all day pass. It's cheaper than car rental but you're not as independent getting around and will be waiting for buses. Check out Bus About Raro for bus schedules and more information.
RENTAL CARS
If you prefer to drive yourself around to see the sights, a rental car or scooter is a great way to independently explore your way around. Fuel is expensive but the Island is small. Fuel cost me only $12 on top of the 7 days car hire. Scooters are even more economical on fuel and for rental if only 2 of you but you run the risk of being caught in a tropical downpour. Yes, I have before.
Rentals make getting around a little easier and by not having to rely on catching the island bus, shuttle transfers or paying for a taxi is a more relaxing way to end your holiday in Rarotonga.
Average rental cost for a small car per day is $50
Average rental cost for a larger car per day is $60
Average rental cost for a scooter per day is $25
We recommend Go-CookIslands for car rental as we have rented cars from these guys before. They offer a good price, friendly, easy to deal with and offer airport drop off and pick up of cars – Have a car waiting on arrival or leave your rental at the airport when departing to avoid paying airport transfers. There is also no extra charge to add extra licenced drivers of their rental cars which is great.
If you want to save money on transport while here, catch the local buses instead. You can buy 10 single trips for $30 or a family all day fare for $26. This is much cheaper than car rental but you wont be as independent getting around and may waste time waiting for buses.
ACTIVITIES  & THINGS TO DO
To keep your tours and activity costs down, simply choose more affordable things to do. Keep tours to a minimum if you want to save but still take part in some more expensive things to do and fill the rest of your time doing more affordable things to do or free things to do in Rarotonga. Doing your own sight seeing can be at your own pace, cheaper and stress free.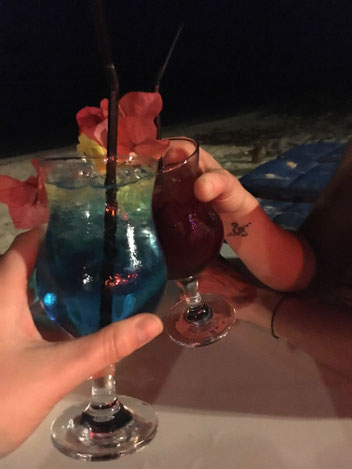 DRINKING WATER
Take an empty drink bottle (or buy a souvenir bottle from KiteSUP Cook Islands in Muri) to not only to fill up after clearing security at the airport but also to use while on holiday. Don't buy slabs of bottled water in Rarotonga. It's too much plastic waste, also a waste of money and you can refill your own bottle for free at any water refill station around the island. The water is completely safe for drinking and cooking.
ALCOHOL
Keep drinks to one each if you do go out for a fancy meal and for other times keep alcohol costs down by buying and mixing your own. Keep cocktails and drinking out to a minimum. If you do want to go out for a drink, find 'Happy Hour' locations around the Island and don't go crazy drinking beyond these times, it's not really a party Island. 
You cannot buy alcohol on a Sunday anywhere on the island out of respect. Drinks are only available to buy at restaurants so pre plan and have some thought of already if you must have a drink on Sundays while visiting.
ENTER COMPETITIONS TO WIN A HOLIDAY TO RAROTONGA
My second visit to Rarotonga was fully paid by intrepid travel. I searched Google for
competitions to 'Win a trip to Rarotonga.' I found one that was current and became desperate to win, I wrote 13 entries of 25 words or less why I want to stay at a Rarotongan resort as there was 13 days left to enter. I forgot about it until I received an email telling me I'd won a $3,000 holiday voucher. That holiday was the first time I realised you really didn't have to spend that much on a holiday in Rarotonga to enjoy it and that you could cut costs everywhere with a little planning. I realised I was happier to do it for a cheaper cost for future holidays.
CLOTHING
Keep it cotton light and bring just your tropicals, hat and bathers.
Only 2 pairs of shoes are needed and acceptable for the entire holiday: Thongs/Jandals/Flip Flops. Wear them out to dinner, on the beach, shopping... maybe not suitable for church though. Bring extra toe covered shoes for a church service out of respect. 
The other pair of shoes needed are reef shoes for walking around the sand in the lagoon. You don't want to step on a stonefish. They may be hiding in the sand around the rocky areas.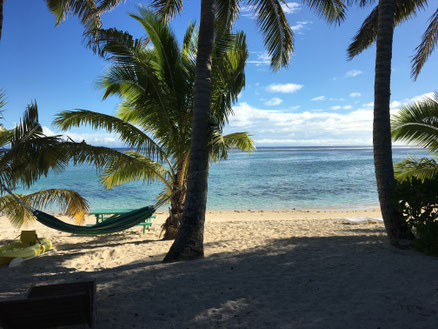 One final thing…
Slow down when you arrive! You and everyone else will be on 'Island Time' so come down to earth quickly, get grounded and unwind. You've arrived in paradise.
All of these tips and hacks are worth knowing to make your holiday to the Cook Islands more affordable.
Even if you only save $50 a day by using some of these ideas, you can use that savings for another part of your holiday. Maybe you want to book one of the more expensive things to do while there like take a day tour and flight to Aitutaki. Save it and get better value where you can and put it to better use while on holiday.
By saving a lot of small amounts in each area of your holiday, you're potentially cutting your total holiday cost to make it actually possible. By spending those small amounts of time getting better prices for each part of your holiday, it will be totally worth it. You don't need to spend a fortune, you just need to see Cook Islands!
Stay for longer, play harder or rest easier knowing you've booked your best holiday the cheapest way possible and supporting the locals all while having the holiday of your dreams.