Cheaper travel tips 
The very thing stopping so many from travelling abroad for a tropical getaway is the cost. Some aren't able to fathom the cost of boarding a plane, accommodation for a week or more and having to pay for every meal. Enjoying activities and tours each day and having holiday cocktails most days sounds impossible to some. How can people afford this each year? Some may earn a lot of money to fund their lavish holidays, but most of us average earners have no chance of enjoying a week or more in tropical paradise on an average income… But it is possible and I'll tell you how.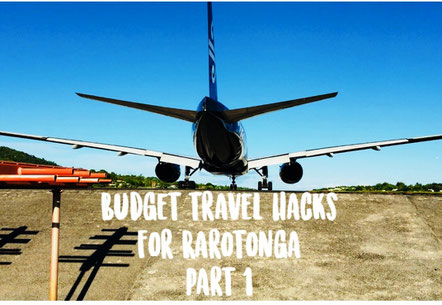 Give yourself time to plan, save and book everything by working towards it 12 months in advance. You'll not only have time to save but you'll have time to plan your itinerary and find things to do before you go and if you're anything like me and love to get more for my money where possible, you'll find better and cheaper ways to get value out of your holiday in cost and fun.
The 3 highest costs of your holiday include flights, accommodation and food. If you can cut costs in these areas you'll cut the most cost from your time away. The other smaller costs on holiday to Rarotonga  can also be cut to add up to considerable savings. Don't dismiss smaller saving amounts as they all add up in the total holiday cost. It doesn't matter how much your holiday budget is, it's only about being able to get there and see it.
If you do earn a high income and can afford a 5 star holiday, why wouldn't you want to cut your holiday costs too?
If a holiday like this was previously out of reach, you can now work towards getting yourself there. Here are some cheap travel hacks for Rarotonga. If you can implement them all or only a few, you'll save money on your holiday. By putting in just a little effort for each, you'll save amounts in all areas to considerably cut the total cost of your holiday.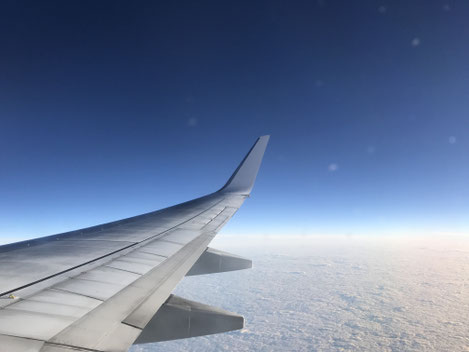 THE  3  EXPENSIVE  AREAS  TO  SAVE  THE  LARGEST  AMOUNTS  ON  ARE  FLIGHTS,  ACCOMMODATION  AND  MEALS.
FLIGHTS
Having knowledge of a few things regarding flights to Rarotonga will give you the information to make the best booking you can for the best price.
The average cost to fly to Rarotonga from the East coast of Australia is $450 one way (return
for $900)
The average cost to fly to Rarotonga from New Zealand is $300 one way (return for $600)
Any cheaper than this and you'll be saving dollars already.
If you set up airline alerts and do a bit of searching online you can find flights from Aus – Raro for $350 one way and return for $700 at random times each year. This is a good deal if you can get flights for this price.
I've noticed over the years though, that the best price deals for flights seem to be on sale in April/May and September/October.
The best price you'll ever get is from Sydney, Aus – Rarotonga (sometimes via Auckland, NZ) for $249 one way. That's a return flight for just under $500. You won't get any cheaper than that.
The best price I've seen from NZ – Raro is $150 one way, return for $300.
At almost half the average flight cost, it's worth knowing this info for when to book flights.
There is only one direct flight in and out of Rarotonga from Australia each week. This flight is only available from Sydney and ALL other flights from Australia are via New Zealand.
Sign up for flight specials on the home page and we'll notify you when the best prices become available.
Have you considered a free stop over in New Zealand on your way to Rarotonga?
Most flights from Australia for example, fly to Rarotonga via Auckland NZ where you're able to utilise this 'free stop over city' on your way to The Cook Islands. This means if your flight does stop in NZ you can travel the second leg of your flight at a later date and visit NZ for a few days before flying on to Rarotonga. I have enjoyed a NZ and Rarotonga holiday a couple of times. Why not, if your flight is passing through either way?
My system of booking flights goes something like this…
I'm a Club Jetstar member and for $49 a year I have access to the best flight deals a few times a year especially their birthday sale in May. I usually try to have my airfare saved for and ready to buy at this time of year. Virgin Airlines and Air New Zealand also have great prices at this time of year so I keep an eye on all 3 with flight alerts through airline Apps. I personally use Hopper and SkyScanner . I love them because you can see prices for your requested flights in graph or calendar form, making it easy to see when the cheapest flights are.
Do you have an airline credit card offering frequent flyer points? They're well worth using to pay bills and groceries just to earn points. By doing this I'm able to earn enough points after 2 years to get 2 free flights. If you can get a new credit card (not an additional card but to replace your old one) with frequent flyer points connected, sometimes they will offer a bonus 80,000 points if you spend a
certain amount over a few months. This was enough for me and my partner to fly AUS – NZ return for free, we only had to pay for the NZ – Raro return leg of trip! This is another handy way to cut flight costs by 50%.
---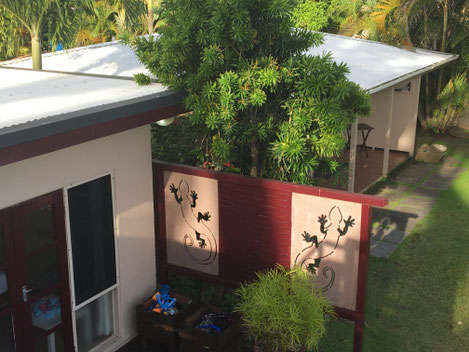 ACCOMMODATION
A big percentage of your holiday costs are here but it's here where you're able to save the most too. Accommodation choices are varied therefore it comes down to personal preference as to how much you would like to save and by cutting your sleeping costs where possible you can save up to 25% of the total holiday cost.
Can you go without daily maid service or breakfasts to save money? What about staying at a property away from the beach to make it more affordable? Some rooms within properties are cheaper if they have a garden view instead of ocean view too so also keep this in mind.
Book accommodation 6-9 months in advance to secure your preferred booking. More people are discovering Rarotonga and when you're trying to keep costs down you do not want to miss out on the accommodation you've narrowed down to get a bargain. It might be a good idea to have a few choices because of this. You don't want to go to book and be disappointed as they're all booked out.
Start by checking coupon sites like Groupon and Scoopon or similar. While they usually have deals in Australia and Asia, sometimes you can find a resort in Rarotonga available with a big discount. With these deals, you'll be able to stay at a high end property which are usually expensive and you'll receive a little more comforts in your price. It's well worth a look before looking on booking sites.
Think about what style of accommodation you want. Do you want to stay at a resort, motel, bungalow, a whole house or hostel style rooms? Next find the location you'd prefer to narrow down your choice then find the cheapest price for the sleeping and amenities you want. You can always find a better price if you need to.
When choosing lesser advertised and known properties, read reviews where you can. See what other travellers have experienced and get insights into the best rooms for noise, views and price. You'll get a better understanding to make your choice when it comes to booking. Check our list of lower cost properties we have found, some personally recommended, to find the one that's right for you.
Book self contained, private and locally owned properties. This will save you about 50% compared to resorts and more popular properties …and there's more chance you'll be able to book your preferred dates.
Another way to lower accommodation costs is by finding a great package deal to Rarotonga. These one cost deals cover flights, airport transfers and accommodation. If you find a great 5 night deal, you can always extend your holiday while there and stay in 2 properties. One as part of the package deal and one of your choice for a few extra nights before departing. Keep an eye out for the cheapest package deals we find to share with you.
If booking at one of the resort or motel style properties, when you arrive and check in, ask if there's a possibility of getting a room upgrade. Maybe they have a spare room that has a better ocean view or easier access to amenities and the beach. You don't know if you don't ask. I have received an upgraded room at The Edgewater Resort & Spa before which ended up being beachfront. It was worth the enquiry for a lagoon view.
If you're limited with transport and don't want to have to go far for food, sights and an ATM on holiday, stay close to Avarua and Muri. These are the two bustling areas of Rarotonga (a slow paced bustle at that)
If you're willing to stay absolutely anywhere in order to just be in Rarotonga, try last minute booking on the booking websites. Last minute deals can save you a lot if you're flexible with dates, location and amenities required. Maybe stay at a few different places to get the dates you need if not as flexible (flights booked).
We like to find the affordable places to stay and when travelling cheaper, it doesn't mean you'll be limited with choices in Rarotonga. My system of booking accommodation is simple but necessary to cut my holiday costs in order to get there because that's all that matters really. Travelling as a couple, family or larger group is possible and after choosing which size I need I'll start looking in the area I want to be in (sunset, close to shops, airport etc). I'm able to now use my own list of places to stay but before this I would look at all cheaper accommodation in my preferred area to book what I wanted. Groupon and booking sites will have the best possible prices to make a final decision.
---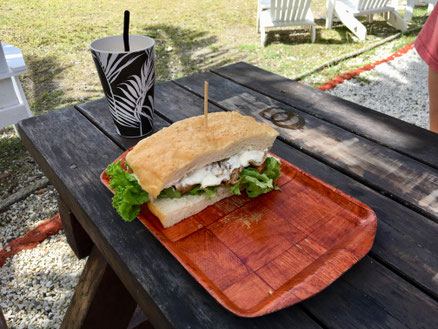 FOOD AND DRINKS
We all have to eat while on holiday and this can be a huge part of your holiday costs, therefore an area that with a little planning and budgeting, can be cut down to an affordable amount. Eating out at restaurants for each meal will cost a lot and for some, this is out of the question.
Meal prices are on a par with eating out in Australia and New Zealand and for a couple, one day can cost at least $150 for 3 meals. If staying 7 nights this will cost over $1000 just to eat!
Buy some groceries and cook some of your own meals yourself. Dairy and meat products are more expensive in Rarotonga. Buy UHT milk as an alternative, and chicken is cheaper than red meat. Most other items are priced the same as New Zealand and Australia. The cheapest groceries are the fresh fruit and produce locally grown on the island. You will see people selling their produce around the island. Utilise these fruits by having fruit salad for breakfasts or lunches. Sometimes you'll be lucky to find some fruit on roadsides that has fallen and the chickens haven't got to. Coconuts are everywhere and you might also find the perfect one to eat on the ground.
**Please don't take fruit from private property as this could be the property owners food supply and/or income source!
If you'd like to supplement some meals or add side dishes to your own cooked meals, bring some sealed, dry, packaged and lightweight food from home to keep cooking costs down; Pasta and sauce packets, noodles, cereal, biscuits, coffee and tea. Even meat …yes meat!
Vacuum pack your meat and take frozen in a secure esky/chilly bin that you've checked in as luggage and declare this on arrival.
You'll probably want to bring a snack too for your late night arrival when all shops are closed except for a few petrol stations. If travelling as a family or in a group, plan to pack one item from home in each persons luggage to spread the weight and keep all carry on luggage weights under the limit.
Does your accommodation offer daily breakfasts? You may get this in the affordable resorts but not so much with private rentals. This will cut out 1/3 of your meal costs each day. I tend to only eat brunch and dinner while on holidays anyway and this is one way I save a little. I'm able to eat for approx $20-$30 each day if I'm careful what I spend and mix up own cooking and cheaper options for eating out. Some of the more expensive tours include a meal which sometimes makes the cost of something more affordable in your travel budget.
The Muri Night Market operates 4 nights each week for dinner. A great way to keep costs down for 4 nights of the week, on Sunday, Tuesday, Wednesday and Thursday. Meals range between $13 - $20.
Sometimes you can get away with sharing a meal. Fish sandwiches at Charlies Cafe and The Mooring Fish Café are huge and plenty enough to share with your partner for lunch! You'll be fed and have more money in your pocket to spend elsewhere on the Island.
My motto is 'Spend less, to get more on your holiday' and in the food area this is no different.
You don't have to miss out on eating out completely. There are so many options in Rarotonga, check our list of cheaper places to eat. Mix up all 3 different ways of eating while here, eating out for some meals, buying own ingredients to cook and eating at more affordable places like cafes and take away we have found, you can experience it all and save. For even more holiday food savings, cook more meals yourself and avoid eating out all together.
Buy local, in season fresh fruit, produce and fish where you can. Make your own meal once or twice each day and eat out at more affordable places if you are going to eat out.
Check our list of cheaper places to eat to make some meals cheaper.
Read article 'Food costs for 9 days in Rarotonga' on a budget here
I HAVE BROKEN THIS COMPREHENSIVE ARTICLE DOWN INTO 2 PARTS AS THERE WAS JUST TOO MUCH TO SHARE
Read  'More budget travel hacks for Rarotonga'  here
which follows on from this article providing more helpful travel hacks for your holiday to Rarotonga, Cook Islands.