The Needle, Rarotonga
Medium fitness level required. (elaborate)
Each time we circled the Island of Rarotonga, I peered up at the bare rock poking out of the mountain peaks. Known affectionately as The Needle. Te Rua Manga reaches 413m above sea level. It's not the highest point on the Island but it's definitely noticeable amongst the peaks in the centre of the Island. The intrigue was too strong to not want to hike to the top. Deciding to climb that very mountain, we decided to head off early the next morning, before the heat of the day kicks in.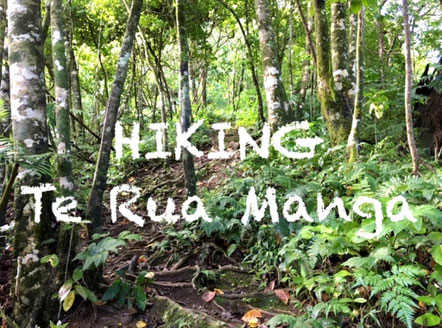 We woke at 6am to catch a beautiful sunrise before getting in the car to drive to our free early morning activity. It had been raining the previous day and we were hoping the climb was going to be ok, completely unaware of what to expect. All we wanted was to head inland to explore the lush interior.
Finding the starting point was easy enough after finding directions on a forum online.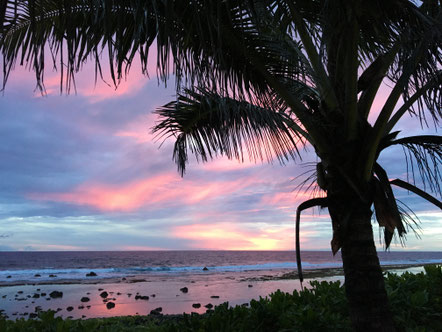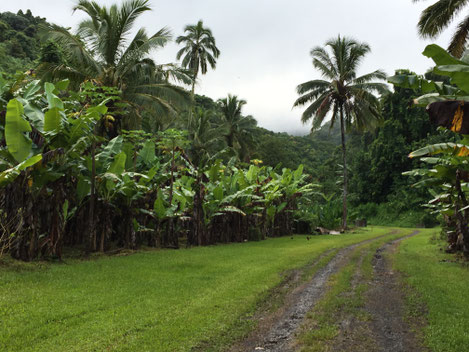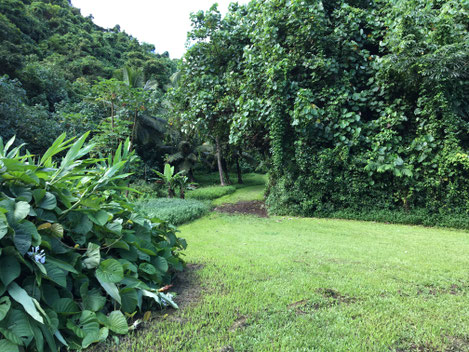 The Water/Elec board is where we parked our rental car to start our adventure on foot. We headed off using mostly our instincts until we spotted our first triangle marker on a tree to confirm we were on the right track.
After disappearing into the canopy of trees you quickly begin to incline. Sturdy trees to hold and exposed entwined tree roots for easier footing help you get past the steepest parts of the climb. In some parts you'll be walking on ridges as narrow as 60cm wide with steep drops either side. Other parts were quite wide and a bit easier to tackle.
Thankfully the ground wasn't too wet for hiking although it was borderline for doing so. Any wetter underfoot and it would have made climbing dangerous.
Half way into our hike, we were met by a friendly rooster who joined us for the rest of the climb. It was almost like he was guiding us and I have no doubt he had done this many times before. I wonder how many other hikers have met this rooster.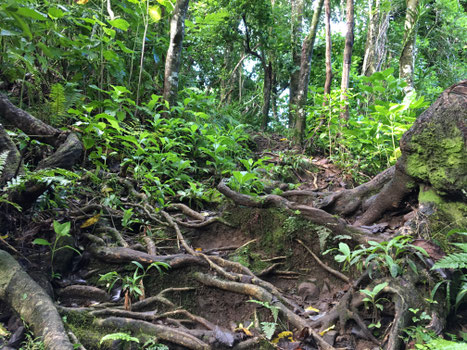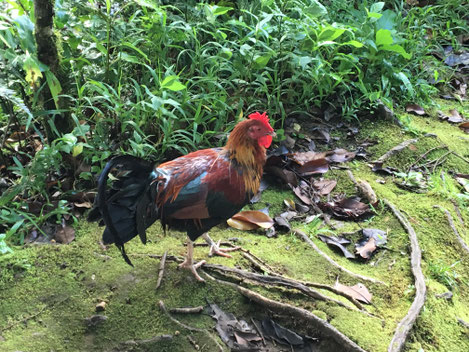 A steady paced climb to the top took us just over 1 hour. Climbing 1.5km as far as the base of The Needle, we decided not to climb the final rock summit and instead share our time with Mr Rooster and the gorgeous morning views over Avarua, a part of the lagoon and beyond out in the Pacific Ocean. Breathing in the fresh air and views at the top of the mountain lasted for about half an hour. In this time we took photos, watched the morning clouds lift and Mr Rooster wandered off to continue on with his day of foraging.
Our mountain descent took just as long as the climb and made easier by the thin trees to grab and the tree roots make perfect steps for going down.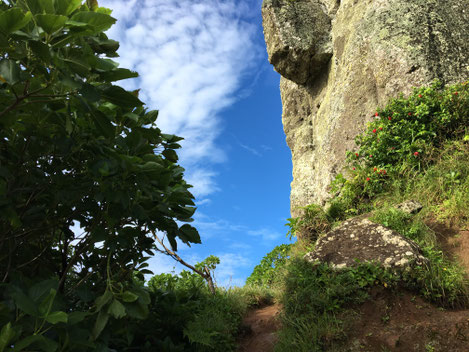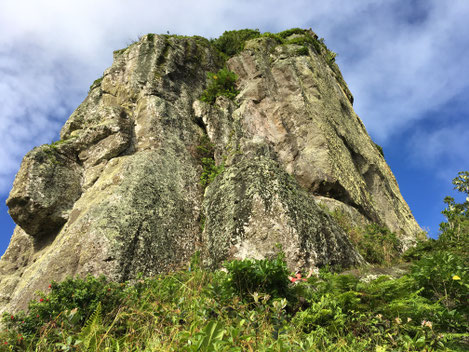 We set off at 6:30am and returned to our car just over 2.5 hours later. Our hike took us back to where we started but you have the option to continue the hike down the other side of the mountain to end up coming out at Papua Waterfall if you prefer a change of scenery and a bit more of a challenge to cover more ground and see more of Rarotonga.
Wear sturdy footwear as this track is not for thongs. Don't forget to take a backpack and bottle of water on your hike and a camera to capture your adventure in the middle of Rarotonga. Enjoy the view and hopefully you'll meet Mr Rooster while heading to the top.
This activity is highly recommended by me! It's one of my favourite Free things to do while visiting Rarotonga. Wake up early, catch a sunrise, get some exercise and conquer that peaked mountain while capturing your achievement with photos of fantastic views.